If fast web hosting is what you are looking for then here is a list of 7 fastest WordPress hosting services. When it comes to web hosting, a fast server is only one factor for good experience and ranking there are many other things to consider while choosing the perfect web host. That why I'm listing out the best WordPress web hosting companies that are crazy fast, reliable, offers good support, and easy on your pocket.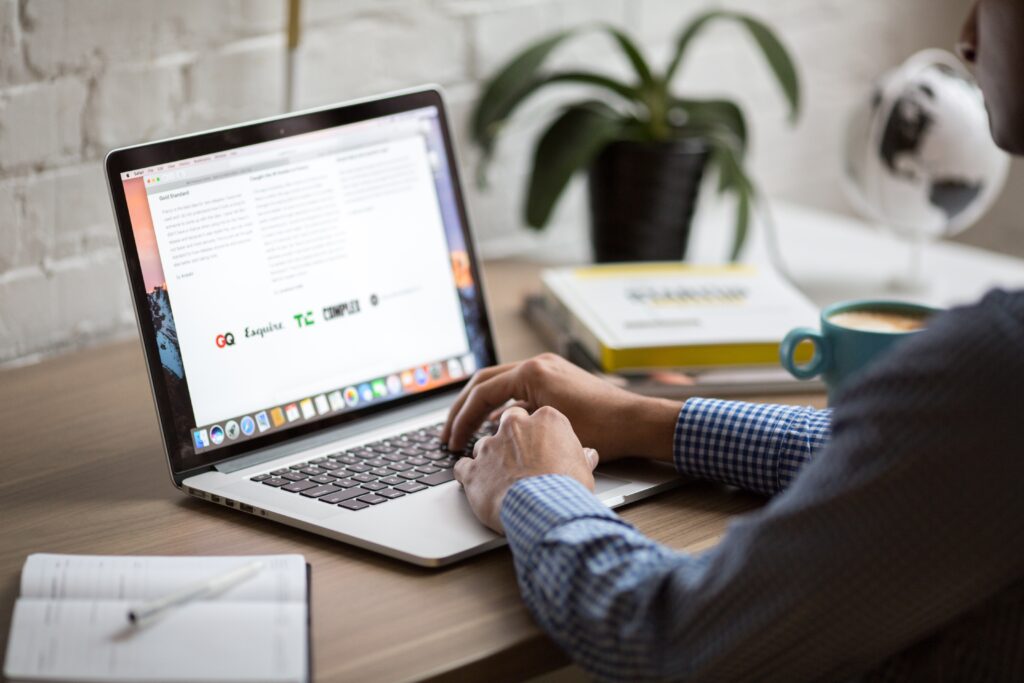 How To Find The Best Web Hosting?
There are a ton of web hosting companies that offer web hosting for dirt cheap rates but why should you choose a fast web host over them. Well, the short answer is, your website will be fast. The long answer is that a faster server will provide lower response time which will improve the overall performance of your site by making pages load much faster. If you have ever used website speed testing tools like Google's Page Speed Insights, then you can see how fast your site loads by giving a score.
There are many factors that make a web hosting provider fast and most of it comes down to the physical hardware infrastructure of the servers used by the web hosting company. Here are some factors that make a web server fast.
Fast and Reliable Network
Slow network speeds will result in higher server response time. Initial Server Response Time is one way by which Google measures a website's speed, Initial Server Response Time is the time a website's server takes to serve the byte of data to a visitor's browser. If the server takes longer to respond then the initial server response time will be higher which will the website load much slower.
The initial server response also depends on the geographical locations of a website's server. That is if you are trying to visit a website that is hosted at a faraway location the response time will be higher.
CPU Cores and Clock Speeds
The processor that powers a web server has a really crucial role in determining the performance of a website, a low-end CPU can handle some traffic on your website but if there is a lot of traffic then a more powerful one will be needed to fulfill all the database queries and PHP processes.
However, you shouldn't be worried about this as most hosting providers offer good CPU even on their base plan. But what you should consider is the number of CPU cores you are getting on your plan. If your website's traffic is low then you can start from a 1 core CPU and then upgrade your plan later.
RAM and Storage
Most hosting providers now offer SSD or even NVMe SSD storage for their web hosting plans, these are high-speed storage options that will significantly increase a server's I/O speed there by making a site snappier.
RAM is an important factor that helps a server to cope with the traffics loads and ongoing tasks, it's better to have at least 2GB of RAM but most small sites should be fine with 1GB RAM also.
So that now you know what are the key factors that make a web hosting provider fast, you might be worried about choosing the perfect hosting service. Don't worry mate, in this post ill show you the 7 best hosting providers so that you don't have to worry about all the hardware selection stuff.
What is Managed WordPress Hosting?
Managed WordPress Hosting is WordPress-specific hosting that makes it easier to manage, secure, and speed up your WordPress site. Managed hosting is a description of the service you'll receive. While most hosting providers leave the majority of the work up to you, managed hosting takes some of the responsibility for keeping your site going off your shoulders.
5 Fastest & Best Managed WordPress Hosting Services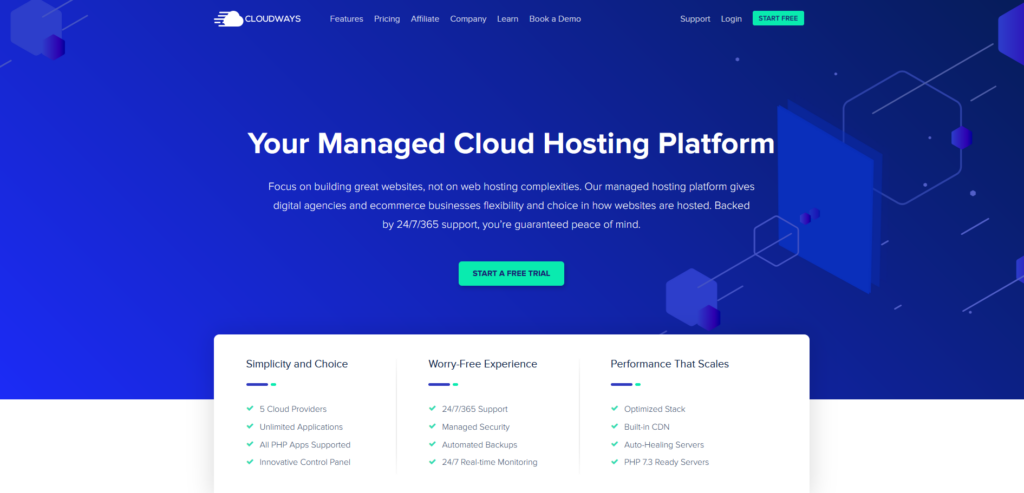 Cloudways is first on the list because they use superior cloud hosting services like DigitalOcean, Linode, Vultr, AWS, and Google Cloud for hosting your WordPress site. They will do all the work for you buy setting up your WordPress website on these cloud services and makes your life easier.
Cloudways provides an intuitive user interface from which you can manage your WordPress sites. With Cloudways you can scale your website seamlessly as your traffic increases thanks to their cloud providers. Cloudways hosting plans start from as low as $10 for a single WordPress installation. One main feature that I really like about them is their "Pay As You Go" billing method, ie. you only need to pay for the number of hours your server runs.
They also provide 24/7/365 Support and their on CloudwaysCDN for free on all their plans. Key features offered by Cloudways are:
5 Cloud Providers
PHP 7.3 Ready Servers
Built-in CDN
Custom Control Panel
24/7/365 Support
All PHP Apps Supported
Unlimited Applications
Pay As You Go Billing
Click here to sign up at Cloudways.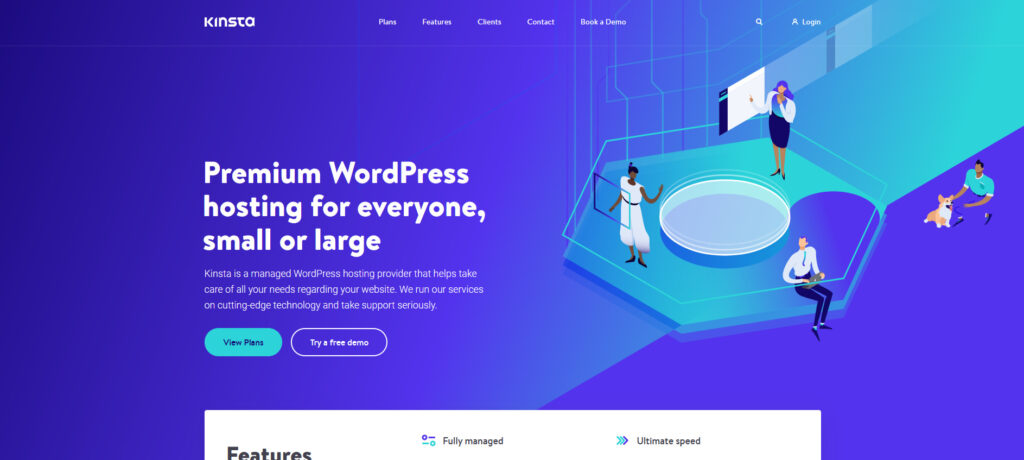 Kinsta is a WordPress specific hosting company that is backed by Google cloud servers which are optimized for speed and performance. Hosting plans starts at $30 per month and includes two months free with annual billing. Their key features include:
Nginx Servers
PHP 7.4
MariaDB
DDoS Protection
Free CDN powered by KeyCDN
Server-level caching with Nginx Fast_CGI cache
SSH access
Custom Control Panel
24/7 Support
Click here to sign up at Kinsta.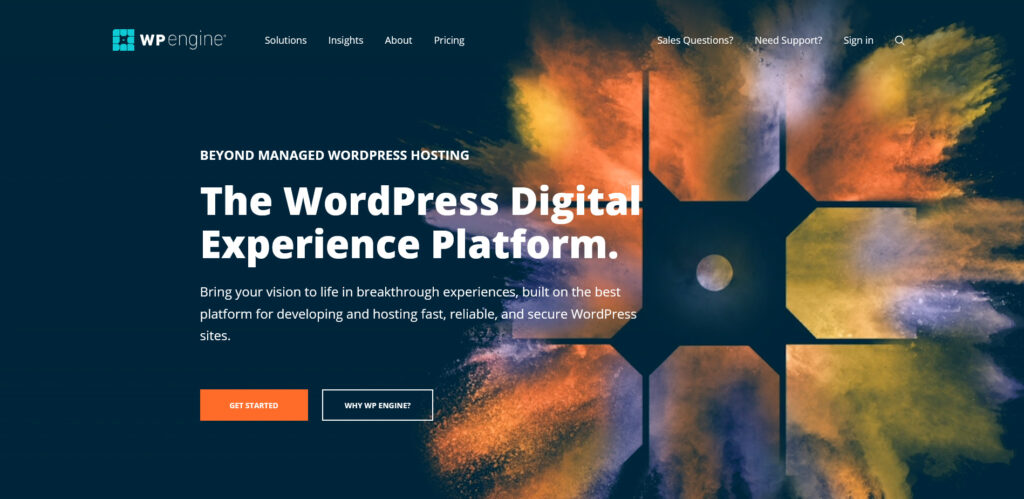 WP Engine is a managed WordPress hosting provider who also makes use of cloud hosting infrastructure by AWS and Google Cloud. They provides a number of managed WordPress hosting plans that can be scaled at any instant to meet your needs. Apart from all the other managed WordPress hosting providers WP Engine provides more WordPress specific features.
Using WP Engine's control panel you can easily convert a normal WordPress installation to a multisite installation with a few clicks, they provide Activity Log to see changes you make in your WordPress site and also they provide Dedicated Dev Environments on their Premium or Enterprise plan. Not just that! you will get a bunch of StudioPress themes to kick start your WordPress website.
Highlighted features of WP Engine are:
StudioPress Themes
Free CDN
SSL Certificates
SSH Access
Git and SFTP Connections
Multi-Site Conversion
Dedicated Dev Environments
24/7/365 Support
Click here to sign up at WP Engine.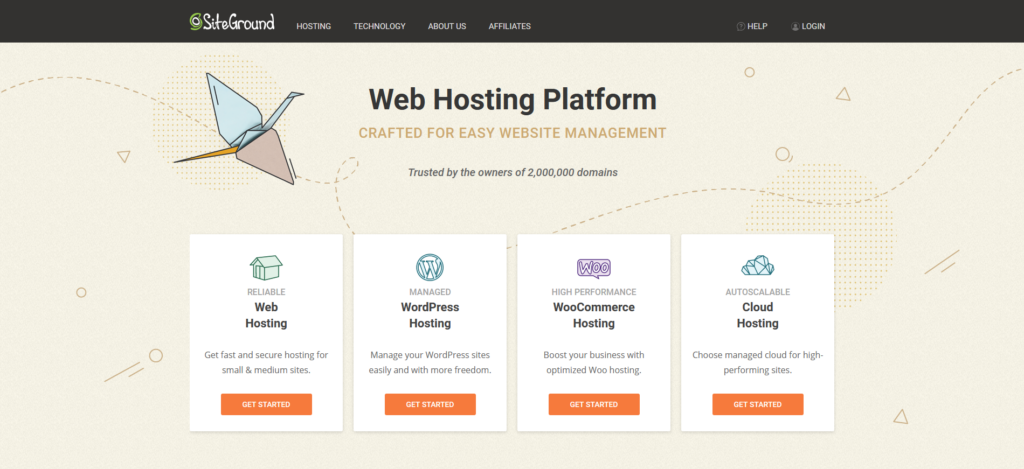 Being one of the few hosts that are officially recommended by WordPress.org, Siteground is used by the top websites to host their WordPress blogs. Siteground offers pocket-friendly plans when compared to the competition.
They provide a reasonable amount of WordPress-specific features. That includes free one-click installations, WordPress site transfers, and automatic updates.
SiteGround also has 'WordPress SuperCacher' which is a SiteGround-specific feature that adds caching for your WordPress site on multiple levels, to improve loading times. And by the way Siteground is also powered by Google Cloud servers. Highlighted features on Siteground are:
Fast network
Apache Web Servers with Nginx Reverse proxy
Custom PHP Implementation
Click here to sign up at Siteground.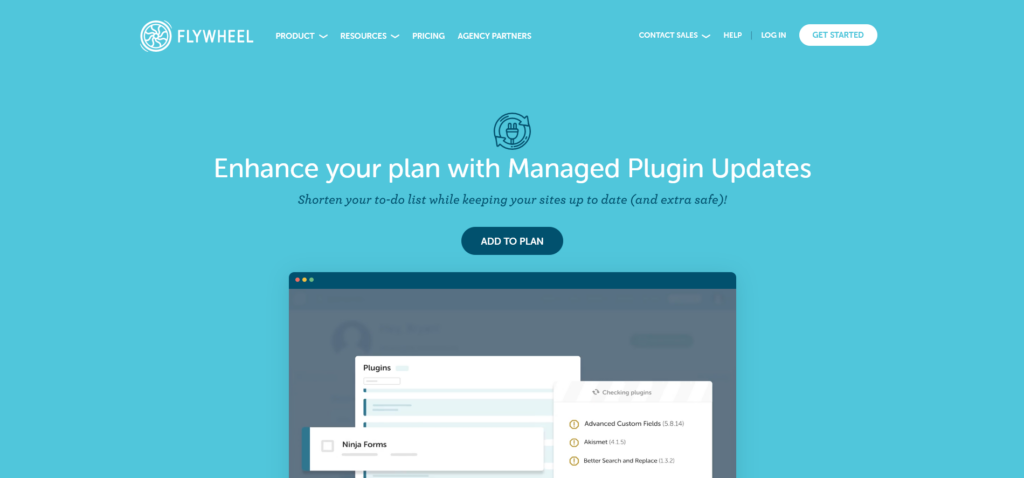 Flywheel which is owned by WP Engine is also a popular and fastest-managed WordPress hosting provider. Even though its owned by WP Engine, they both run separately.
And again! Flywheel powered by Google Cloud, they offer a free CDN and a custom dashboard for WordPress site management. Flywheel also provides custom caching tools and nightly backups.
Flywheel's Managed WordPress hosting provides the following features:
Flycache, which is there custom caching solution
Free CDN
Automatic nightly backups
24/7 Support
Click here to sign up at Flywheel.
2 Best Web Hosting Services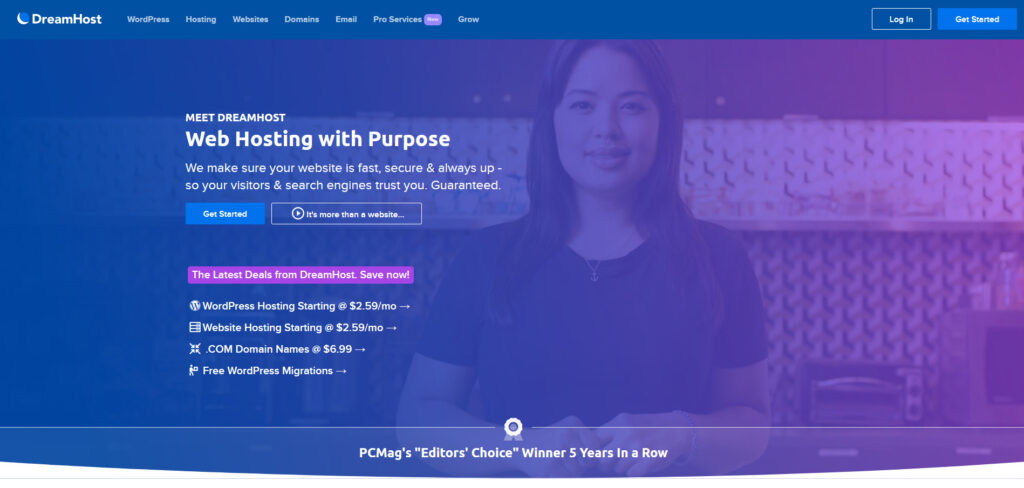 DreamHost offers budget-friendly shared, VPS, and managed WordPress hosting plans. Aside from being one of the affordable hosting companies DreamHost's DreamPress Plus and DreamPress Pro plans come with a free subscription to Jetpack premium.
DreamHost's managed WordPress hosting referred to as DreamPress, and their base plan starts at $16.95/mo. If that feels expensive to you then you can choose their Word Press Basic plan which starts at $2.59/mo which doesn't have any fancy features.
Click here to sign up for DreamHost and get $50 credits for free.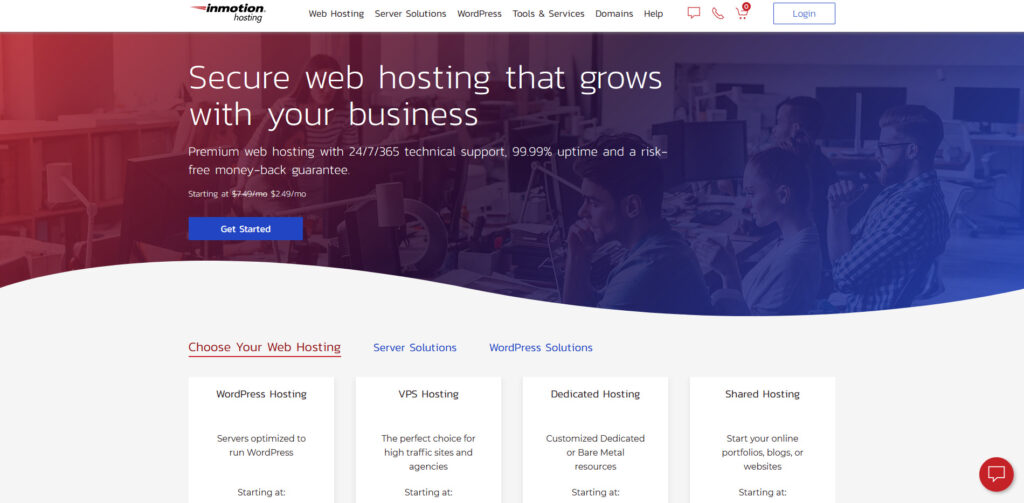 Like DreamHost, InMotion Hosting also has Shared, VPS, Cloud, Dedicated, and Managed WordPress hosting plans. Their shared and WordPress plans are very much affordable also.
InMotion Hosting also offers a one-click software installer, a drag-and-drop WordPress page builder (BoldGrid), and automatic WordPress, plugin, and theme updates.
Click here to sign up for InMotion WordPress hosting.
Conclusion
That's the list of 7 web hosting solutions for your WordPress website, this list has been made from experience in 8 years of WordPress life. I have hopped on to many providers and know all of these providers.
If you have any questions or queries then you can post on our forums so that many people like you will join to have a conversation over there.