Everything is changing so fast and so is technology, the recent launch of NVIDIA's latest RTX 3000 series based on Ampere architecture brings in more VRAM so that people can do more insane things like what I'm gonna show you with this post. Let's learn how you can install a game on your GPU's VRAM.
As insane as it sounds it has already happened! The increase in GPU VRAM has lead people to attempt such things as this woman who has installed Crysis 3 on her RTX 3090.
This is possible as the RTX 3090 has 24GB of GDDR6X memory. She then partitioned it into two sections, a 10GB and a 15GB variant, and installed the game. Even with Crysis 3 installed on the GPU's VRAM the total memory usage wasn't maxed out, it just touched 20GB, with the GPU load at 40%.
So if you are curious to know how you can do this, then it simple and can be done by downloading two softwares and a few clicks.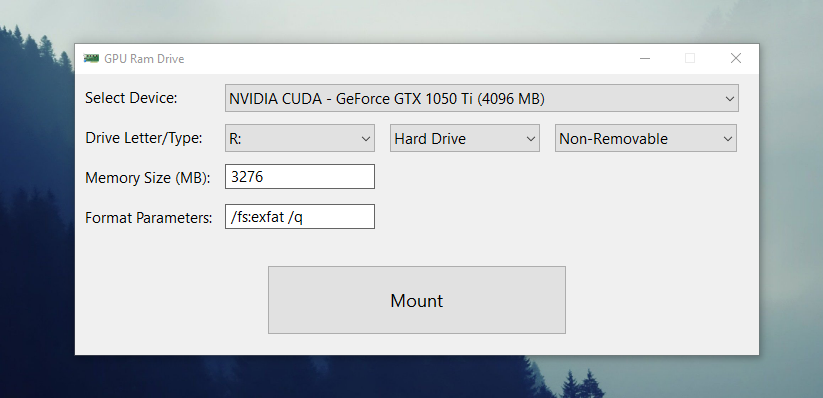 Steps to use GPU RAM DRIVE and mount VRAM as storage
Download and Install ImDisk Virtual drive.
Download GpuRamDrive.
Open GpuRam Drive_x64.exe or GpuRamDrive_x86.exe depending on your operating system.
Select the graphics card you want to use for installing the game.
Choose the drive letter for assigning a drive letter to the virtual drive you are gonna create.
Select the hard drive.
Choose how the drive should be recognized as Removable or Non-Removable.
Select the amount of memory you need to allot from GPU VRAM to the Virtual Drive.
Leave the Format Parameters as such.
Click Mount.
That's all now open the File explorer, you will see a new drive there. Install whatever game or software into that drive and enjoy.